There are plenty of reasons for wanting to plant a hedge – they can help to create privacy, boundary or windbreak and even help to divide your garden into sections. Hedges make a great alternative to a fence as their relatively low maintenance, only needing to be pruned twice a year and they are a great way to attract more wildlife to your garden as it helps to provide shelter for many insects and birds.
Fast-growing hedges help to bring an extra element of privacy and security to your garden and are often a popular choice amongst many homeowners.
The most cost-effective way to plant hedges is to plant bare-root plants between November and February (the dormant season). Many hedging plants can be grown this way including the popular beech, hornbeam and yew.
For fast-growing hedges, you want to choose plants that will knit together quickly. Below we'll look at some suggestions for fast-growing hedging plants that will add extra privacy and security to your garden.
What are the best hedging plants for my garden?
There are plenty of hedging plant options for your garden that will help to provide privacy and security for any outdoor area. Below are some of our favourites.
Cherry Laurel
Cherry laurel (prunus laurocerasus) is one of the most popular choices for privacy hedging as it has an incredibly fast growth rate. Also known as the common laurel, this dense evergreen species has large glossy green leaves and it thrives in shadier conditions as well as direct sunlight. Growth wise, you can expect it to put on between 30-60cm per year.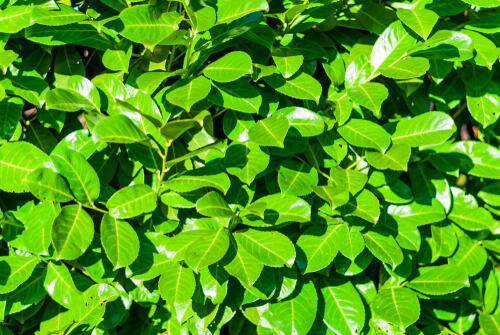 Bay Laurel
Bay laurel (laurus nobilis) is another popular choice that features smooth, green leaves. Native to the Mediterranean region, and used as a bay leaf fr seasoning in cooking, the Bay laurel features heavily in Greek mythology however today it's most known for its fast growth rate.
White the bay won't grow as quickly as the cherry laurel (around 20-40cm average per year) – some gardeners use this to their advantage once their hedges are fully established as they don't grow as quickly.
Portuguese Laurel
Portuguese laurel (prunus lusitanica) is a gorgeous fast-growing evergreen hedge that thrives in warm, coastal regions. It grows quickly (up to 50cm per year on average) and is extremely popular amongst weekend gardeners as it's incredibly easy to maintain as it only requires pruning once per year.
As the Portuguese laurel is a dense hedge it makes it one of the best hedges for privacy as well as blocking wind and noise. It's also great for hiding fences!
Fuchsia
Fuchsia (Fuchsia magellanica) is an attractive fuchsia variety that makes a stunning ornamental hedge or specimen shrub. Fuchsias grow well in milder parts of the UK and provide a great show of flowers from early summer to late autumn.
Fuchsias can grow to 3m in height but should be pruned after flowering to keep it well-maintained.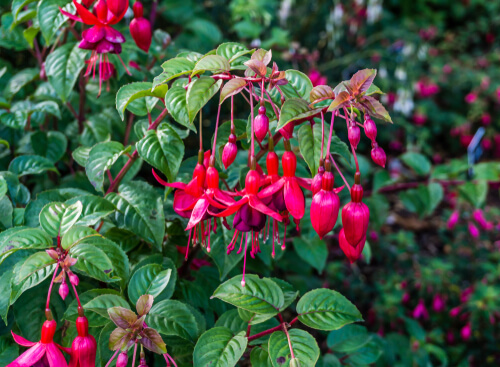 Griselinia
Griselinia (Griselinia littoralis) is a beautiful evergreen shrub that has oval-shaped, bright green leaves and makes for a great alternative to common hedging.
Griselinia shrubs are hardy enough to withstand exposure and windy coastal winds, making them the perfect choice for sheltered or coastal gardens. They are considered fast-growing and will grow on average around 30cm per year.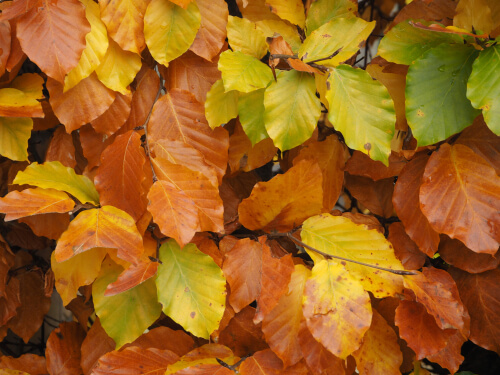 Beech
Beech hedging (Fagus sylvatica) is a beautiful year-round hedge that provides a fantastic alternative to evergreen hedging. Typically, beech hedging should grow by around 30cm per year, making it a perfect privacy hedge for any garden.
Although beech plants are deciduous, their beautiful coppery winter leaves will stay on the hedge until they are replaced by new, fresh green leaves in spring.
Bamboo
Bamboo plants are perfect for hedging due to their fast growth rate. It's very tolerant of shade making it the perfect choice for many gardens in the UK & Ireland.
You need to ensure that you choose your bamboo wisely, as some varieties can reach 6m tall whereas others have spreading roots.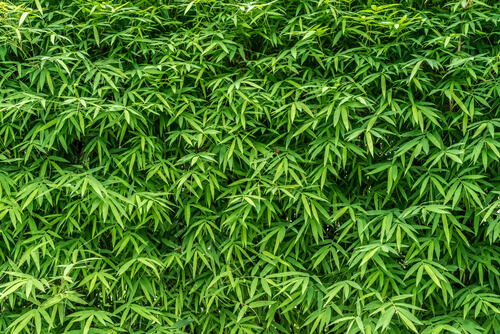 Privet
Privet (Ligustrum ovalifolium) is an incredibly popular evergreen/semi-evergreen shrub for hedging, growing at a rate of around 30cm per year. Occasionally, privet hedges can lose some of all of their leaves in harsh winter conditions so it's recommended to trim it a few times to encourage it to form a dense, neat hedge.
Flame Amur Maple
Named after its bright, fiery red colours in autumn, the Flame Amur Maple (Acer ginnala flame) makes for a stunning fast-growing hedge. If its beautiful autumnal colours weren't enough, it makes for the perfect hedge in cold conditions and can be grown in most parts of the UK & Ireland.
The Flame Amur Maple thrives in full sun to partial shade and is drought-tolerant once established. It makes for one of the best fast growing privacy hedges that provides shade throughout summer and still allows light through in winter.
When is the best time to plant fast-growing hedge plants?
The best time to plant fast-growing hedges is autumn to early spring, although your task will be much easier if you can avoid periods of ground frost. Planting outside of these seasons is still an option, although you would need to pay close attention to the roots, ensuring they don't dry out.
It's important to prepare the ground prior to planting anything. Ensure the area you'll be placing your hedging in has been thoroughly weeded first – we usually recommend six weeks and one week before planting.
It's then important to add plant food at the same time as your plants.
For fast-growing plants, opt for more mature plants to start with. Hedge plants are often sold as either bare-root, root-balled or container grown. While no option is better than the other if you want to speed up growth we recommend container grown.
How you space your plants out depends on how they grow too, and you should always refer to the guidelines prior to planting. For Laurels, the ideal distance is at least 60cm apart, but for Bamboo, this can be as large as 150cm depending on the type.
How deep you need to plant will depend on the size of the plants you've purchased – we will be able to help just ask our team.